2012-06-01 The hidden, human cost of the EAW
Since its 2004 debut, use of the European Arrest Warrant (EAW) has exploded; in those eight years, its flaws have already destroyed or destabilized many lives. Although high-ranking EU officials now admit that the current EAW system is a "threat to human rights," EAW reform may not happen soon enough to prevent it from snaring more victims ... including Julian Assange.
The faces of injustice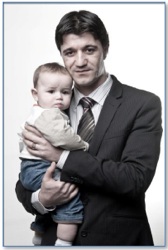 "Edmond Arapi was tried and convicted in his absence of killing Marcello Miguel Espana Castillo in Genoa, Italy in October 2004. He was given a sentence of 19 years, later reduced to 16 years on appeal. Edmond had no idea that he was wanted for a crime or that the trial even took place. In fact, Edmond hadn't left the UK at all between the years of 2000 to 2006. On 26 October 2004, the day that Marcello Miguel Espana Castillo was murdered in Genoa, Edmond was at work at Café Davide in Trentham, and attending classes to gain a chef's qualification. Edmond was arrested in June 2009 at Gatwick Airport on a European Arrest Warrant (EAW) from Italy, while he was on his way back from a family holiday in Albania. It was the first he knew of the charges against him in Italy ... A British court ordered his extradition on 9 April 2010."
"Andrew Symeou, a [20-year-old, British] student ... was on holiday with friends in Zante, Greece in 2007. One night while Andrew was in Zante, another young Briton fell off an unguarded stage in a night-club, tragically dying two days later from his head injury. Andrew insists he was not even in the club at the time - and many witnesses have since confirmed this. He was never sought for questioning at the time, and knew nothing about the incident when he flew home at the end of his holiday. A year later, he was served with an EAW seeking his extradition to Greece to stand trial for murder. Only during the course of his legal challenge has it emerged that the EAW is based on completely flawed evidence, much of it extracted through the brutal mistreatment of two witnesses who have since retracted their (word-for-word identical) statements. Despite this, in October 2008, the Westminster Magistrates court ordered his extradition to Greece. Andrew appealed to the High court on the grounds that British courts should refuse to execute a European Arrest Warrant when evidence has been obtained through witness intimidation and police brutality. Unfortunately, the High court refused his appeal and he was extradited to Greece in July 2009. Andrew was held for 10 months in appalling prison conditions before his release on bail."
"Andrew was detained for almost a year in filthy, overcrowded prison conditions alongside convicted murderers and rapists, and was forced to spend his 21st Birthday behind bars. [C]onditions in his cell were so unsanitary that he awoke each morning covered in cockroaches and was frequently bitten by fleas in his bedding. The shower room floor was covered in excrement and the prison was infested with rats, cats and mice. He was finally released on bail but had to remain in Greece to await trial, enduring continuous delays before the trial finally commenced in March 2011; four years after the events in question."
"Jacek Jaskolski, a retired schoolteacher living in Bristol[, was] sought on a European Arrest Warrant to stand trial in Poland for an overdraft debt he paid off many years ago. ... In July 2010 the British police suddenly and with no prior notice arrested Mr Jaskolski. He [was] threatened with a trial for theft [and up to] 5 years in prison. ..."
A cursory internet search reveals numerous similar cases, all demonstrating the human cost of the flawed EAW system: Deborah Dark, a grandmother of two, was repeatedly arrested and detained pursuant to an EAW, for a drug-related offense on which she was acquitted more than 20 years ago. 51-year-old fireman and football fan Garry Mann -- arrested near the scene of a riot while attending a football match in Portugal and convicted less than 24 hours later -- was released in 2004 on the condition that he stay out of Portugal, but was then re-arrested, extradited, and imprisoned under an EAW in 2009 on the same charges; a British High Court judge called the case "an embarrassment." 27-year-old British businessman Michael Turner was extradited to Hungary under an EAW in 2009 and held in prison for four months, even though he was not being prosecuted and investigations were ongoing. British citizen Tracey Molamphy was strip-searched and imprisoned in Germany for two weeks after authorities arrested her under an EAW for a "counterfeiting" allegation against her former boyfriend from 12 years earlier. 18-year-old "Patrick Connor" (not his real name) was arrested in Spain with two friends in connection with two counterfeit €50 Euros in his friends' possession; the men were all released and returned to the UK, but four years later Patrick was arrested under an EAW arising from the incident, extradited to Spain, and held in a maximum security prison in Madrid. Fearing two years of pre-trial detention, he instead pled guilty and spent two months in prison before returning home with a criminal record.
The EAW's heavy hand
Recently described by one MEP as "like using a sledgehammer to crack a nut," the EAW is the blunt-edged and scandal-prone instrument that may soon be wielded against WikiLeaks founder Julian Assange. As with some of the case studies above, the issuance of an EAW against Assange has been criticized as a disproportionate abuse of process. Like Michael Turner, Assange has not been charged with any offense, but is only wanted for questioning regarding an ongoing investigation. His legal team objects that this violates the purpose of the EAW, which can only legally be issued for the purpose of conducting a criminal prosecution or enforcing a sentence.
But Assange is not alone in criticizing the current EAW system. Thomas Hammarberg, Council of Europe Commissioner for Human Rights, has called the overuse of EAWs a threat to human rights, citing common problems such as "the imprisonment of innocent persons, disproportionate arrests, violations of procedural rights and the impossibility in some countries for an innocent person to appeal against a decision to be surrendered. The problems appear to have worsened with the increase of the number of EAWs - there are now an average of more than one thousand per month, the overwhelming majority of which relate to minor crimes. ... It is thus high time to reform a system that affects thousands of persons every year."
The EAW under attack -- but too late?
Use of the EAW has indeed grown quickly in its eight years of existence. According to the NGO Fair Trials International, in 2010 more than 1,000 people were extradited from the UK to another EU country; the year before, the number had been 699. The House of Commons Justice Select Committee expects these numbers to rise soon by about 250%. From 2005-2009, 54,689 EAWs were issued in the EU. But as UKIP MEP Gerard Batten commented, out of this number, so far only "a handful" have involved "serious criminal or terrorist suspects. These people could have been extradited under national systems that protected the entire population who are now unprotected from unjust extradition."
Problems lie not only in the EAW's frequent use, but also in its inconsistent application. Poland, for example, requested 4,844 extraditions in 2009; France, whose population is nearly twice that of Poland, issued only 1,240 EAWs; while the UK made just 220 total requests. Rushed through Parliament just months after the terror attacks of September 11, 2001, the EAW has been criticized for containing numerous textual errors and "a degree of vagueness that may be considered surprising in a formal legal instrument."
EU Justice Commissioner Viviane Reding and UK Deputy Prime Minister Nick Clegg have expressed concern about the disproportionate use of EAWs for petty crimes. Another worry is that attention to human rights has been abandoned in favor of expediting EU extraditions; although EAWs fast-track the extradition process, they also severely restrict individuals' rights to challenge EAW orders. Acknowledging serious problems with the extradition device, reports by the European Commission and the parliamentary Joint Committee on Human Rights concluded that the EAW system is deeply flawed. In December the UK Parliament unanimously voted after debate that the UK Extradition Act 2003 and the EAW require "urgent reform."
But it's still unknown whether much-needed reform will come quickly enough to benefit Julian Assange and other victims of the EAW.