2011-02-06 WikiLeaks in today's media: Cablegate coverage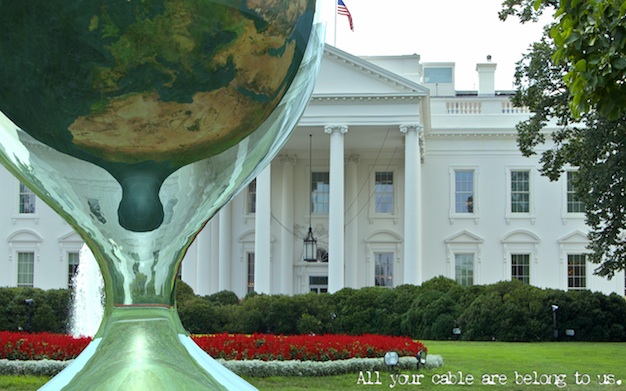 El País: El Arma es la Red (The Weapon is the Web)
"Los papeles de Wikileaks revelan cómo los blogueros de Egipto iniciaron su rebelión en 2005, se inspiraron en la revuelta de Irán y usaron Facebook para enfrentarse a la dictadura. (The Wikileaks documents unveil how bloggers from Egypt started their insurrection in 2005, got inspired by the one in Iran and used Facebook to face the dictatorship.)"
El País: Guatemala's congress reinstates data protection: the end of the problem that refused to go away
"Guatemala's Congress passed legislation by an overwhelming majority to reinstate data protection for drugs and agrochemicals, paving the way for consideration of the CAFTA in the U.S. Congress. This was the end of a drama played out over years that was fraught with misinformation, conflict of interest, partisan politics, and a pronounced lack of decisiveness by top political leaders. It has consumed in aggregate more of our full-time attention than any other issue in recent months. Most of what follows has been reported in e-mails and, to a lesser extent, cables as we have moved from one operational crisis to the next. Here, we lay out more systematically the extent of the problem, the forces at play, and the efforts of many to succeed on an issue where the easy arguments lie on the other side."
El País: Next steps for Thailand's compulsory license bid
"On November 29, the RTG Ministry of Public Health (MoPH) issued a statement announcing a compulsory license (CL) on efavirenz, a Merck-patented medicine used to treat HIV/AIDS patients. The Ministry's statement cited the high price of the drug as a barrier to access to effective HIV drugs, and declared its intention to import generic versions of the drug and also produce domestically. Supply issues may also have been a factor in MoPH's decision. Merck was not notified prior to the announcement and to date has not had the opportunity to meet with decision makers at the Ministry. While Thailand probably has complied with both its own law and the WTO in its action, the lack of prior consultation with Merck and the absence of any attempt to negotiate pricing with the U.S. firm weaken MoPH's arguments and suggest the MoPH is being heavily influenced by activist NGOs. We do not believe the major RTG economic ministries are aware of either the details or the implications of the MoPH decision, something we hope to remedy. Although many believe we are facing a fait accompli, it may yet be possible to avoid CL implementation: Merck plans to counter MoPH's announcement with a price reduction and, with USG help, hopes to salvage its patent. However, increasing numbers of HIV-positive patients and spiraling treatment costs may bring about further RTG moves on compulsory licenses. Embassy action request is contained in para 28."
El País: RTG open to discussions with Pharma "after CL's are issued"
"On January 29, Minister of Public Health Mongkol na Songhkla issued a statement officially announcing compulsory licenses (CL) on Abbott Labs' HIV medicine Kaletra, and the heart medication Plavix, distributed by Sanofi-Aventis. The official notification for Kaletra was signed on January 24, and for Plavix the following day. According to the statement, the CL on Kaletra will be effective for five years, but for Plavix will have no expiration date."
El País: "APRIL 6" MOVEMENT CONSOLIDATES RANKS, LOOKS TOWARD COMING ELECTIONS
""April 6" movement leader Ahmed Saleh told us July 26 that the group has ejected Islamist and Nasserist members to try to preserve its secular, western orientation."
El País: UPDATE ON BLOGGER CASES - SEPTEMBER 2009
"Human rights attorney Gamal Eid, who represents all of Egypt's detained bloggers, told us September 15 he had learned through third party sources that prison officials have tortured jailed Coptic blogger Hany Nazir to pressure him to convert to Islam. The prison has not allowed Eid access to Nazir since his October 2008 arrest under the Emergency Law."
El País: ACTIVISTS, BLOGGERS DETAINED WHILE ATTEMPTING TO VISIT NAGA HAMADI
"The GOE arrested and detained a group of about 30 activists and bloggers the morning of January 15 as they arrived in Naga Hamadi to visit the families of those killed in the January 6 sectarian shootings (ref A)."
El País: FREEDOM OF EXPRESSION AT ISSUE IN EGYPT
"Egypt has witnessed two recent cases related to protection and expansion of freedom of speech. In the first case, State Security in Alexandria has arrested and detained a young blogger, Abdul Karim Nabil Soliman, apparently because his recent blog entries have carried strongly-worded attacks on Islam. While few in the Egyptian blogosphere have chosen to defend the substance of Abdul Karim's writings, and some analysts argue that Abdul Karim is engaging in hate-speech, many bloggers have argued that his detention is nevertheless a blow to freedom of speech in Egypt. In the second case, the Islamic Research Council of Al-Azhar has banned the import by the American University in Cairo Press of a new study by a Georgetown scholar of the origins and evolution of Wahhabi Islam, on the grounds that it is offensive to Islam. AUC is seeking to have the ban undone."
El País: ABBOU UPDATE
"After a year in prison, Mohamed Abbou, jailed after posting two Internet articles critical of the GOT, President Ben Ali and his family, continues to receive attention and support from local and international human rights groups. The Tunisian Human Rights League head calls Abbou "the most flagrant example of Tunisia's poor human rights record." Abbou started his second hunger strike March 11 to protest harassment and restrictions on family visits. According to his wife, Samia Abbou, family members have in recent weeks been prevented from conducting normal weekly prison visits, and Samia herself was reportedly detained at length at Tunis' international airport while traveling to and from Geneva to drum up support for her husband's cause. Abbou, a lawyer without a history of political opposition and without known ideological ties to Islamists, continues to represent a rallying point for activists across the board who support freedom of expression."
El País: NAZIF AFFIRMS IMPORTANCE OF ESF, PLEDGEST CONTINUED REFORM AND DOWNPLAYS NEW MEDIA LAW
"In a meeting with the Ambassador, Prime Minister Nazif said that it is essential that the GOE continue with its economic reform program, including privatization, and maintain high growth levels. He said that Egypt has been able to "weather a difficult year" but that "we can't take a second blow." He said inflation was the biggest challenge, and would prevent further subsidy adjustments in the near term, but was also concerned about developments in international financial markets. On ESF, Nazif appears to distance himself from the Ministry of International Cooperation's (MIC) position of "no new projects" after FY 2008 (ref a), and called ESF a "symbol of friendship and partnership." He reitereated earlier comments that the level per se was not as important as the fact that it is "a way to bring in know-how that we couldn't get any other way." The prime minister downplayed concerns about the draft media law (ref b) and observed that efforts to censor the internet would not be effective. "As long as I am prime minister, we will not censor the internet, or remove Facebook." In a discussion about Ayman Nour, he repeated the GOE position that Ayman Nour's case is a criminal one, not a human rights case, and that mention of Nour by POTUS was very upsetting to President Mubarak."
(Image Credit: Dali Rău)